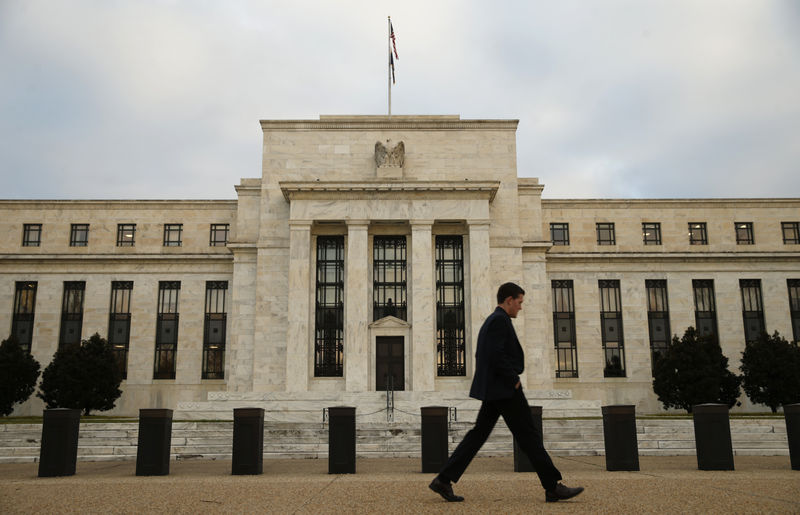 © Reuters. Markets continue to price in December Fed rate hike
Investing.com – Despite the fact that Friday's release of the monthly employment report showed fewer jobs were created in October than forecast, analysts commented that the data left the Federal Reserve in full gear to move ahead with their "gradual" tightening cycle.
Non-farm payrolls (NFP) rose 261,000 in October, compared to the creation of just 18,000 posts a month earlier when Hurricanes Harvey and Irma took their toll on the U.S. economy.
The strong number still missed consensus estimates that had job creation estimated at no less than 310,000 positions.
But the strong rebound seems to fit with the Fed's assessment on Wednesday that "the labor market has continued to strengthen and that economic activity has been rising at a solid rate despite hurricane-related disruptions."
Another disappointing data point in the report was the flat reading average hourly earnings that missed the forecast for a 0.2% gain.
That left the annualized reading at 2.4% in October, below expectations for a 2.7% rise.
The increase in wages is being closely monitored by the Federal Reserve for evidence of diminishing slack in the labor market and upward pressure on inflation. Economists generally consider a year-on-year increase of 3.0% or more to be consistent with rising inflation.
But experts from Wells Fargo noted that don't think it will stop the Fed from raising rates in December.
"Flat wages doesn't concern us too much," they said.
"We do think wage pressure could start to weigh on the markets next year in a tight labor market," they explained.
ETX analysts also agreed that the mixed report won't stop the Fed from hiking at the December meeting.
"With tax reform now on the table we have to also assume that policymakers will start to factor that in to their projections – something they have pointedly refused to do so far – and that could lift expectations for hikes in 2018," they said after the report.
ING economists were also not swayed by the weaker-than-expected numbers.
"With the economy growing strongly and tax reform likely to add further fuel to the fire, the case for higher U.S. interest rates continues to build," they commented in a post-jobs report note.
"Barring an economically damaging government shutdown in early December we expect the Fed to hike rates on December 13 with at least two further rate rises probable under new Fed chair Jerome Powell next year," they concluded.
Following the report, markets were also unfazed in expectations for a hike at the end of the year, pricing in the odds of a rate hike at the end of the year at around 98%, according to Investing.com's Fed Rate Monitor Tool.
sponsoredArticle = 'div-gpt-ad-1466339494851-0';